http://www.youtube.com/watch?v=v6sQA09L1ao
Craig looks sooooo young! And their reactions to the clips of QAF are a hoot!
And Denise's "resume" vid....snicker. She calls Stuart/Vince = "Romeo & Juliet" - snicker.
hugs
xof
RUN! Watch this....
If you want to keep the ATP Archive up and running - please read this information.
Some of you may know I am an archivist at the Across The Pond QAF Fiction Archive. It's been many years of hard work, but not a little pairing drama...lol (just teasing) - but through it all, there has always been one place that served as an archive for all pairing choices and all versions of the show "Queer As Folk".
Now we all have our own pairing favs, and in some cases, we may also have our pairing specific archives. But all of us know that there is value in diversity, and having a wider selection can yield many rewards.
And now, in the spirit of hope, I'm asking for your help to keep the archive alive. Please read the information below, and know that ANYTHING you can give is greatly appreciated.
(
Read more...
Collapse
)
Please remember - You can make a difference, even if in the short term. Many thanks in advance.
Hugs
xof
Okay fellow Queer As Folk fans ... UK Qaf, US Qaf, or both!!! ALL PAIRING PREFERENCES!!!!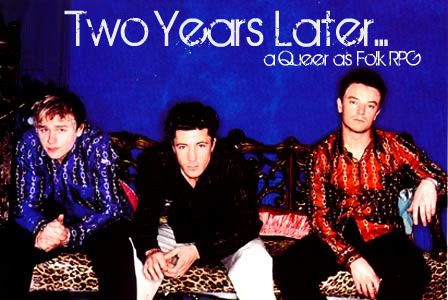 Click the image above to be taken to a brand new UK QAF RPG! We still need some characters, and we even welcome original characters! So don't miss out on the fun!
Don't want to write? Feel free to read! You don't HAVE to be a player to watch/join the community! Feel free to be the naughty little voyeur you are, we welcome it! <3
Also, if anyone knows of any other comms I could possibly post this to get more traffic, please let me know, I'd really appreciate it!
But I was wondering if anyone would be interested or knew anyone who might be interested, or know anywhere I could go to find people who might be interested in RPing Queer as Folk, especially Stuart and Vince.
Personally, I would love to do an RPG starting after Stu and Vince make their exit to America, and I prefer one-on-one RPG with just myself and one other player, but if there is enough interest for a group RPG, I am open to that possibility!
What is a role-playing game, you may be asking? I'll explain
(
under here.
Collapse
)
If anyone is interested, comment here or PM me and we can get this thing rolling! Thanks!
Gina
I'm not sure if this is allowed here, if not, please delete!
"OutNorthWest" Magazine in the UK has just released their online 10 YEAR ANNIVERSARY "QUEER AS FOLK" TRIBUTE!!!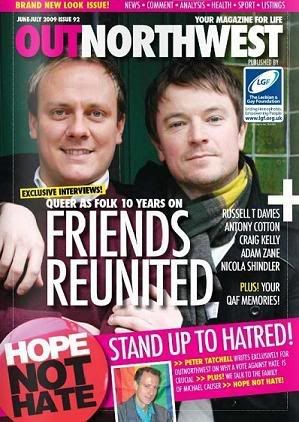 For the issue - they have done interviews with Craig Kelly (Vince), Antony Cotton (Alexander), Russell T Davies, Nicola Shindler, and Adam Zane "Dane".
Interviews - Photos - I'm loving this!!! :)
I'd ask you to forgive the excessive use of "!" but fuck it, this is fabulous...lol.
You can find Screen Shots from the Mag under the cut. To see the live online mag - go
HERE
.
(
Read more...
Collapse
)
Hugs
xof
PS - The Online Mag is fun! You can go full screen and it will zoom so that you can read the text easily.
.
OMG!!!! THUD....... *bounce* THUD!!!
Soooo, welcome to the unveiling of my website:
http://sites.google.com/site/xofficarchive/
If you'd like to browse through my stories in various fandoms - feel free to come take a look see! Also contains other goodies like fan art, links to my videos, QAF recaps, etc.
Hope you enjoy!
Hugs
xof
After several days of tweaking and re-tweaking - I'm saying DONE! :)
What am I trying to sell you? lol... I wanted to beg, plead and grovel for your permission to become part of the new crack for the slash reading public at large!
There's a new livejournal that just opened which features the works of fanfic writers by hosting their stories - converted into ebooks! Specifically for Kindle ebook readers - or for anyone who uses the free mobi-pocket reader program.
Now here's the BIG QUESTION! Would you please please please consider giving your permission to share your stories at
http://community.livejournal.com/kindle_fanfic/profile
???
The reason being that I ADOREEEEEEEEEEE my Kindle, and having more slash fics from my favorite fandoms on my Kindle would ROCK! I'm very sure others would be happy to have them available to re-read again and again, whether they are online or not.
Pretty please? Come on - you know it would be fabulous to see your work all in one place!
I've given permission for my own stories to be featured there - and will be posting a link on my livejournal to my "author" post tonight. Crossing fingers maybe this might interest you?
The archivist will gladly convert the files - full credit to you as always! - create an author page for your fic and will host all of your Kindle/Mobi readable stories on her own website for download by members of the new livejournal.
You get a larger new audience for your work, and you get to add to the ever growing list of fandoms being featured! Come on... It's win, win!
If you're interested - let me know and I will pass along the information the archivist gave me about how to send the files to her, etc.
Please - think about it!!!
Hugs
xof
Okay fellow slash fic writers - I am in FULL PIMP MODE!!! :) Esp for Stuart/Vince fic love...
Hi : D
I'm new in this community and xof1013 invited me here so here I am!
Something about me? I'm 20 (21 soon), I'm Italian and I study biology.
And now something interesting:
I made a fanvid about Stuart/Vince, the quality isn't very good but I hope you'll enjoy it anyway.
Music: Let the flames begins (by Paramore)
VincexStuart

Watch it
Bye : D
http://chig.blogspot.com/
I encourage you all to go have a read - he's reposted his Gay Times cover story from 10 year ago - added in with tidbits from behind the scenes as he attending the filming!
He's got great plans to share more goodies as the week progresses - so remember - check back!!!
"Coming later this week:
Why QAF was responsible for Chig never drinking a certain brand of lager ever again.
Who was responsible for Chig being told off on set.
The strange story of the Nivea hand creme (or was it)?
How QAF led to Chig being treated to a meal by the Daily Mail. (Yikes!)
How QAF saw Chig get a boyfriend. Yes, really! Chig has had a boyfriend!
The wild QAF party which led to naughties in a London hotel, on a train and in Chig's house with a member of the QAF cast. On second thoughts, we'll leave that bit out."
hugs
xof
Blogger Chig is doing a week long look back at Queer As Folk, in celebration of the 10th Anniversary (TODAY!!!) of the original airing in the UK.